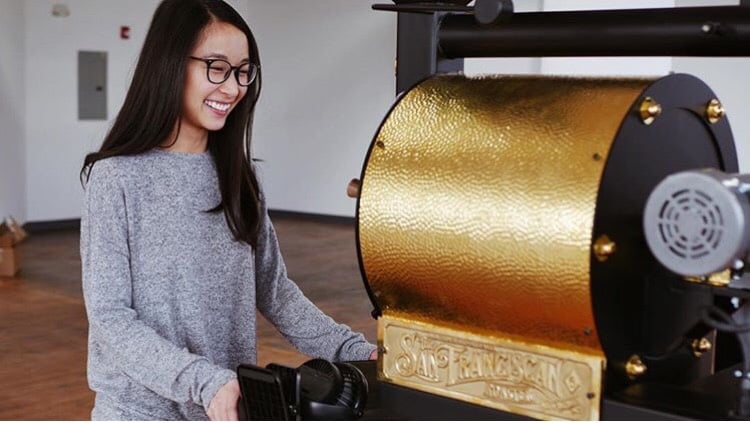 Just a couple of years ago, Thu Pham was a site-director at 12PLUS, a nonprofit organization that helps students in under-served communities plan for post-secondary education. Now, she spends her days roasting and preparing Vietnamese coffees, but her mission has not changed. When socially-driven developer, Shift Capital, launched the Kensington Avenue Storefront Challenge, a contest aimed at transforming Philadelphia's Kensington neighborhood, Pham and her business partners realized the impact that a coffee company could have in revitalizing the community.
Philadelphia's neighborhood of Kensington has long been stricken with an opioid epidemic. Known as the "Wal-Mart of drugs", Kensington has recently been undergoing a transformation due in part to the city and other grassroots movements. Many of the 12PLUS students live in or around the Kensington neighborhood and know all-too-well the struggles that come with living in the community. But, Pham knew there was a way for their roasting company to give back to these students. "[My business partners and I] decided we can interview the students in the near future and create jobs for them. They'll have the opportunity to roast coffee, cup coffee, work with our wholesale partner program, and on social media accounts".
After winning the competition, Pham and her business partners opened Vietnamese coffee roaster, Cà Phê, with a mission to give back to the community through job creation and development. I caught up with Pham to talk about winning the Kensington Avenue Storefront Challenge, coffee's educational impact, and introducing Vietnamese coffee to Philadelphia.
Interview is condensed and edited for clarity.
Can you tell me a little about Cà Phê?
Cà Phê really started at the end of 2017. At that time, this socially driven real estate property management company called Shift Capital released a competition to makers, creators, entrepreneurs, and nonprofit organizations. They were looking for people who were interested in taking a part in revitalizing Kensington. For a number of reasons, and for many years, this area has been dealing with an opioid crisis. Shift Capital has made it a part of their mission to fix the neighborhood by creating jobs, renovating homes in the area, and making the housing affordable. They launched this competition called the Kensington Avenue Storefront Challenge. They were looking for people to do this Shark Tank-kind of competition where we would submit a business plan that would give back to the community in some way. My two business partners are Raymond John, the CEO of 12PLUS, and a chairman of 12PLUS. They spotted the competition while they were bowling, and they were kind of bouncing ideas off of each other. They're social entrepreneurs, and they have always been trying to figure out creative ways to funnel money into 12PLUS. Like any other nonprofit, especially a small local one, they will always be stricken by the constant annual grant applications.
To give you some background about 12PLUS, I used to work there for two years, and it's been around for seven years. We basically partnered with three under-researched public high schools in Philadelphia, and we are the college and career access program for these schools. For many of these schools, there's a 1:460 to almost 1:600 ratio of counselors to students. That's why there are annual budget cuts that the Philadelphia school district is being coveted by every single year. We were there to be the extension for the guidance counselor's office, so they can focus on the socially-emotional issues that these students are going through on a daily basis. For us, we get the privilege to work with these students and be their mentor and guide them through their post-secondary planning. We make sure that every single senior graduates with some kind of plan, whether it be a gap year, a two-year school, a four-year school, or technical school. We really make sure to have a conversation with these students to get something going in their mind whatever it may be. I was a fellow and site-director there when Ray and our chairman found out about the competition. They were bouncing ideas off of each other and thought of a coffee shop, because there are not enough coffee shops in this world, right? I was like, well, how are we going to make ourselves really different? I brought up the idea of focusing on Vietnamese coffee, because I'm a Vietnamese-American, and my business partners are Korean-Americans. Something about Vietnamese coffee that immigrants have brought here is the tradition of community. People are going in [Vietnamese restaurants] and getting their breakfast or lunch or dinner, and they always either start or end with a cup of Vietnamese coffee. They prepare it by putting the coffee in this pseudo-espresso apparatus, and you put the grounds into the chamber and put the tamper on top and watch the coffee drip super slowly over the luscious condensed milk. You get this super robust coffee that Vietnamese people drink all the time. It's a country that's constantly moving and working. [The tradition] was brought to America, you can see people outside at little tables and stools drinking coffee. It's really a moment that's precious and I remember it so clearly in my mind growing up. They're so present with each other and their environment. I value it and practice it every day. I mentor my students to do the same. It was something I thought we could share with Philly and hopefully across the world. That's how the idea came up.
We were going to initially do a coffee shop but we decided after we won the competition that we should focus on the roasting side and make it a craft of ours first. We wanted to really experiment with Vietnamese coffee. They're the second largest producer of coffee, and they're known for their Robusta beans. That's something I really wanted to play around with because Robusta beans are used quite frequently in Vietnam, if not for instant coffee. We decided to focus on that and highlight how we can make Robusta beans that screen well into really good Vietnamese coffee. I didn't want to focus just on Vietnamese coffee, because within this Asian culture I think there's a big tradition around the beverage industry. There's a lot of gathering, family, and engagement over any type of beverage, so we also decided to expand into Southeast Asia, East Asia, and different types of teas as well. That's what we're focusing on now. And, as someone who's worked at 12PLUS for two years, I wanted to incorporate the students in some way. For many people, even myself in the past, it's a bit scary thinking of the third wave industry, because it's kind of mysterious to me. Sometimes I'm really afraid to scratch the surface because I don't know what kind of reaction I'll get. I think I can speak on behalf of my students who are living in such conditions, they're probably more scared than I would ever be. It's something that probably never crossed their minds to enter the coffee industry. The role they probably think they can get into is as a barista or cashier at Starbuck's, because some of our students have jobs there. But there's no conversation about how they can grow and get behind the scenes of roasting coffee, where it comes from, how it's grown... The tradition and culture we're trying to highlight is something I really want to share with our students. That's how we're trying to give back to the community specifically, and that would influence students from our partner schools in the neighborhood. Most importantly, we're giving them a space that is positive and really fosters a learning culture that I don't think they get where they're currently employed. It's something I value and want them to personally and professionally develop. Whether or not they stay in the coffee industry, I hope that the skills, conversations, and values they learn here at the roastery are something they can translate to anywhere else they will be in the future.
You already kind of touched on this, but how were you able to blend the traditional Vietnamese style of coffee with a third wave approach?
For Vietnamese coffee, most restaurants in the states use Cafe Du Monde which is based in NOLA. That specifically isn't Vietnamese coffee at all. It's a blend of African and Latin American beans. It goes back to the colonization of the Vietnamese by the French. When the Vietnamese people were brought to the states, they were looking for a coffee that matched what they drank in Vietnam. The only thing that matched was Cafe Du Monde. Even if you go [to Cafe Du Monde] now, there's a lot of Vietnamese people who work there. But, if you go to Vietnam, you don't see Cafe Du Monde cans anywhere because we don't use it. We were trying to decolonize ourselves in a way. I really want to tell people that this isn't Vietnamese coffee; it dates back to this period where we were colonized and forced to drink coffee that isn't ours. I decided to put effort into doing some research and get in contact with distributors who have Vietnamese coffee. I wanted to play around with the coffee and see if I could create a roast that was similar tasting to Cafe Du Monde. There was a lot of trial and error and I think I have finally built that roast profile that matches it. What many people don't know is that there's a chicory flavor, which is an additive that I don't put in our coffee. But I was able to bring out that flavor through the roasting process.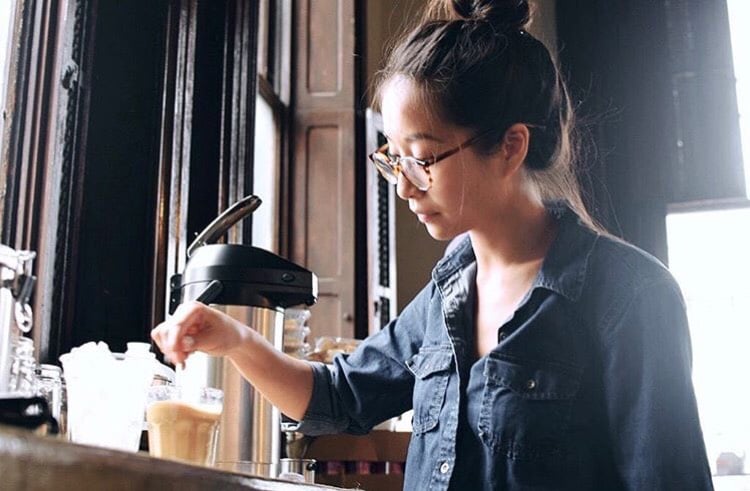 What's the response been like from the community?
I feel so blessed because the response has been really great and welcoming. We did win the competition back in 2017, but we had a year to work with Shift Capital to figure out how we wanted the lease. The competition came with a lot of benefits because we got some seed money, and there was a lot of logistical and technical support. So we wanted to take the whole year and make the right decision with the lease. In late 2018, we had a three-month pop-up. Shift Capital connected us with a brand agency called Little Giant Creative. They were having a three-month art and technology exhibit to talk about the racist systemic policies that happened in the past, present, and the impending doom of our city if people aren't aware of it. It's beautiful. This exhibit was happening in this old bank that was built by a very famous architect, Frank Furness. It was then turned into a night club called The Bank so the space already had a bar area. Little Giant Creative loved that the bar was still there, so they reached out to local vendors to see if they'd be interested in catering for the three-month pop-up. We were connected through our landlord and that was basically the launch of everything.
We got to test out our product and that was really important because I was already thinking of a way to get the public involved. This pop-up opened up so many doors. So many people from different communities came and gave us feedback. It was really great. Mostly everybody was loving the coffee but we definitely received critical feedback, so we had that three-month period to figure it out. That's why we have continued to integrate pop-ups at least once a month. But I'm not there just for the great feedback, I'm also there for the constructive feedback and how we can make it better for people.
I read somewhere that you're the first Vietnamese coffee company in Philadelphia. How has it been introducing Vietnamese coffee to people in a traditional way?
In the beginning, I guess I was nervous. I go back to us considering ourselves as specialty roasters. I was touching upon that third wave and I was really hesitant about entering that industry. To be honest, when we had that three-month pop-up, we had a couple of roasters from local specialty coffee roasting companies in Philly stop by, and they all had such encouraging words. I think that was when I realized that I was gonna do what I'm gonna do. I shouldn't be afraid because ultimately, it's a culture and tradition that's important to me and that I'm passionate about, and no one should stop me from sharing that. Especially with 12PLUS in the back of my mind, and students entering the company in the near future, sometimes I just have to put my fear aside and go forward.
What I love about specialty coffee is how community-oriented and open it is, but we need to be accepting of different ways to serve coffee. There's not one way to enjoy coffee, and we need to be more inclusive in how we serve coffee and talk about it. I'm really glad to hear that other industry professionals were so supportive.
I feel very blessed and feel bad for being so fearful and doubting them a little. I love specialty coffee, I love my espresso and pour-overs. But I do agree. This world isn't too saturated with coffee, but in some pockets it is. What we realized at an early point is we have to do something different.
Do you have any plans of opening a retail space?
Yeah, we are actually very interested in opening a storefront, because again, we were initially going to do that and we decided to backtrack and focus on roasting first. We are in the plans with Shift Capital, because they just bought an old building in Kensington. They were looking for tenants for the building, specifically coffee. Our missions are aligned, so we've been talking with them. I also love messing around with beverages and these pop-ups are so fun for me because we're creating all these different beverages or introducing these drinks you only see in Vietnam. We're bringing it to the community, sharing it with them, and making it more friendly. We encourage people to try it, but there's no shame if they don't like it. We just want them to try something new. So I really do hope that we follow through with the plans on [the retail space] because I'm really excited to build a menu and give students an opportunity to create their own space.
Do you have an idea on how to integrate 12PLUS into a retail space?
That's something I think about quite often. We know the roles we want the students to play at the roastery. But I have thought about what I can see them doing at the retail space. I do want to be more hands-off and oversee things to give them as much autonomy as possible. I worked at a restaurant for over ten years in high school and college. Working in a fast-paced, high-volume restaurant and learning how to interact with customers is really important and something everyone in this world should experience at least once. If they want to become a barista or manage inventory, that's something we're very open to.
How did you get into coffee? Were you interested in it before you started?
Yeah, I grew up around Vietnamese coffee. It was always on Sundays when we would go to church and after, we would go to a Vietnamese restaurant to grab food and coffee. It was part of my culture and upbringing. But I can be transparent in that when I went to college in Philadelphia, that's really where I got into specialty coffee. There's so many in Philly and it's growing every year. I started buying home brewing equipment because as a student I couldn't afford a pour-over every day. I remember I bought my first V60 when I was a freshman, and then my equipment starting growing. I would buy coffee from local roasters and brew it at home to be more cost-effective and that's how I got into it.
What has your experience been like as being a woman roaster in the industry?
Actually, I bring it up quite frequently when I talk about my experience roasting. The first thing I say is that it's interesting that there are not many female roasters. In the beginning, I was nervous because I didn't know any woman roasters in Philly. And then I found Amanda from Rival Bros Coffee through Instagram, and she was a roaster for one of my first and favorite coffee roasters in Philly. And I thought she was so boss, so I kept following her. I'm a devout listener of Cat + Cloud and when I learned that their head roaster is a female of color, I was like, "Yes, there's people out there like me!". I would go to cuppings around Philly, and Counter Culture used to have a training center here. One of the education directors was Dee, who was so welcoming and friendly. She is so overwhelmed with information and willing to give it. I think of those three people so much, and they are my motivators and constant reminders that we have to keep doing it. If we're not doing it, who will?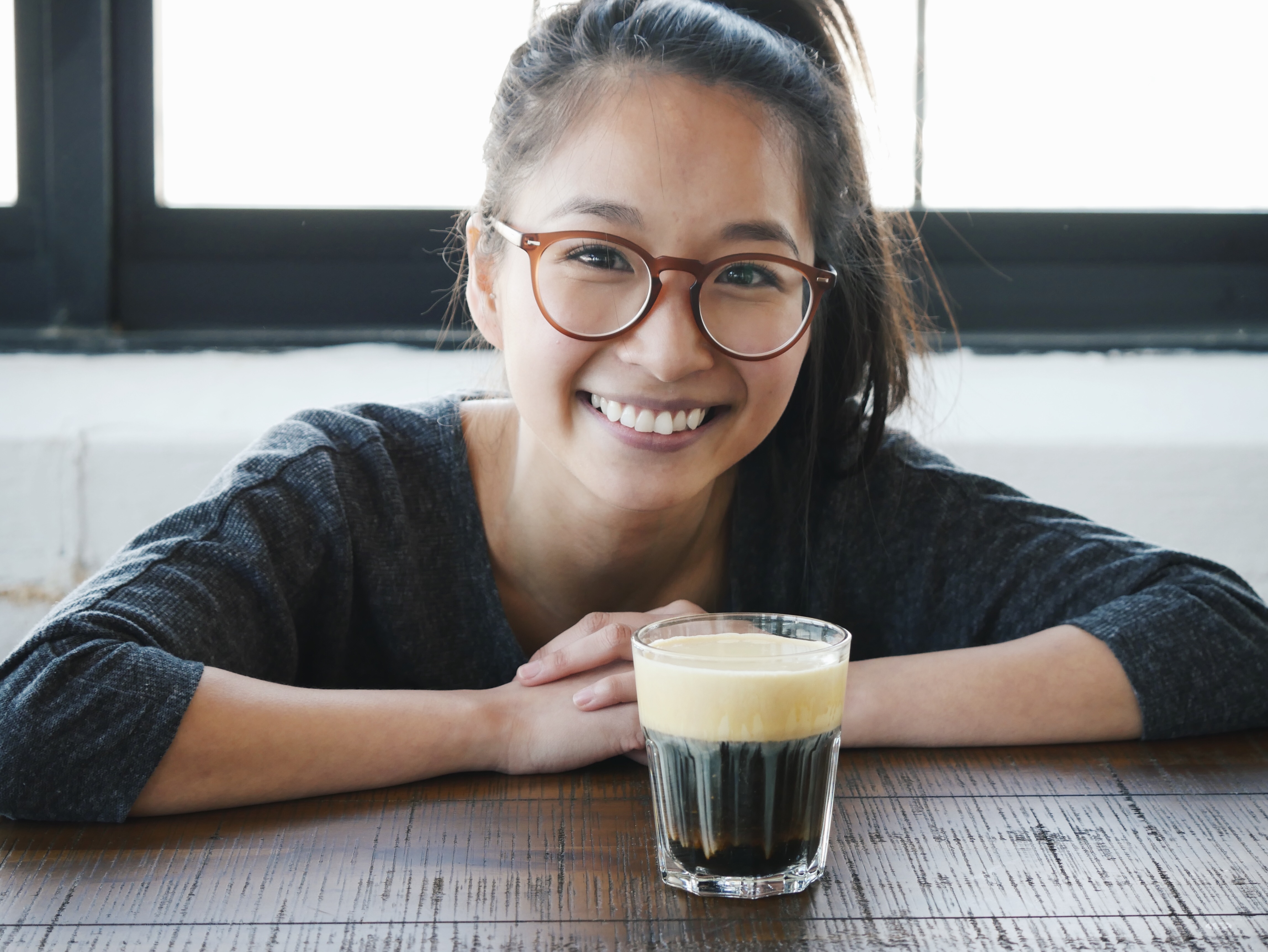 Make Thu's Cà Phê Trứng (Vietnamese Egg Coffee)!
Serves 1
Ingredients
20 grams (3 tablespoons) of Vietnamese coffee grounds (for best results, use our Vietnamese Espresso Blend)
2 egg yolks (key is to use room temperature eggs so plan to leave outside of fridge for at least 30 minutes)
3 tablespoons condensed milk (room temperature)
1 teaspoon vanilla extract
1 pinch of cocoa powder
Equipment
1 spoon
2 cups
Hand mixer
Phin (Vietnamese coffee filter)
Kettle
Steps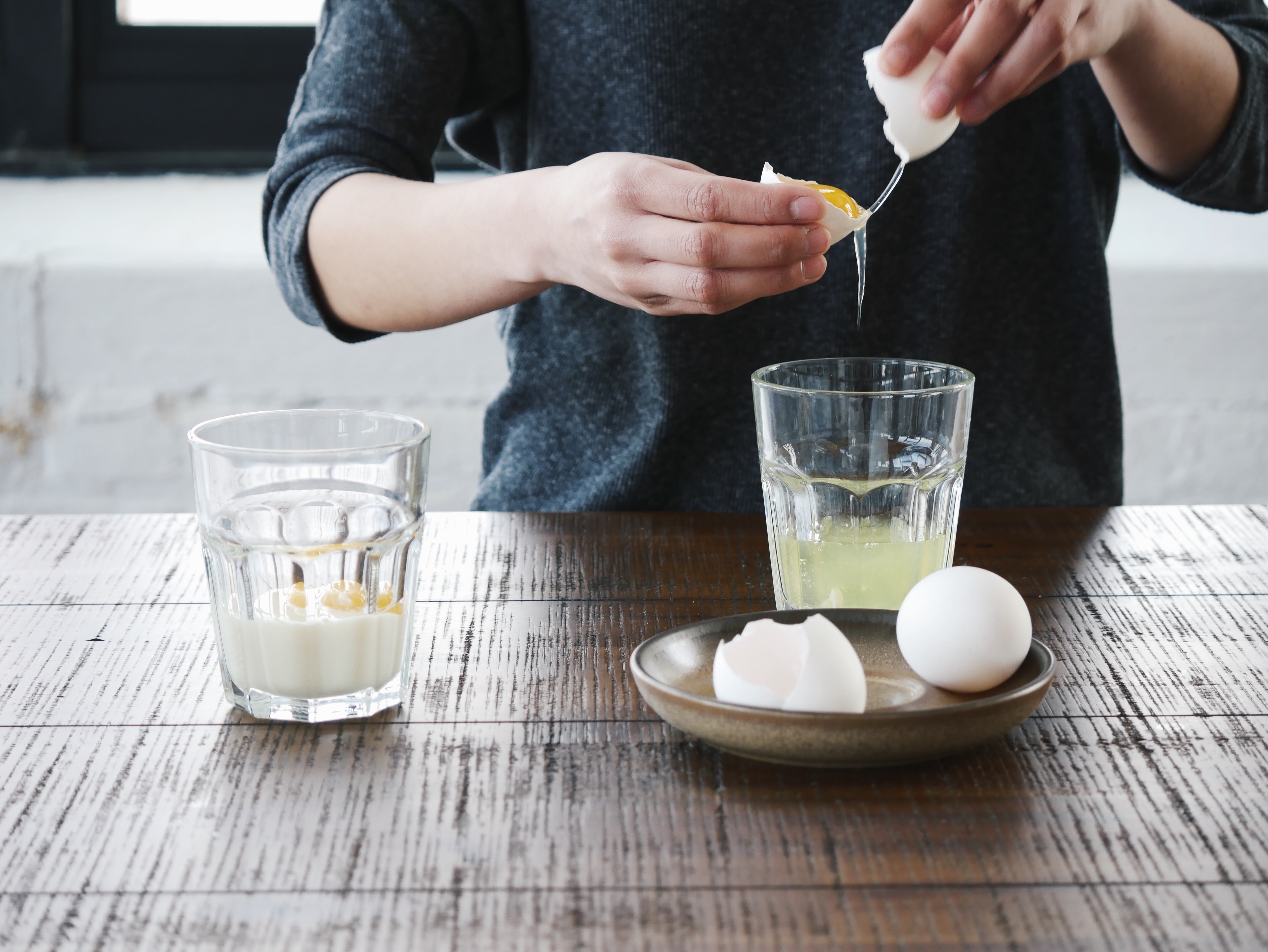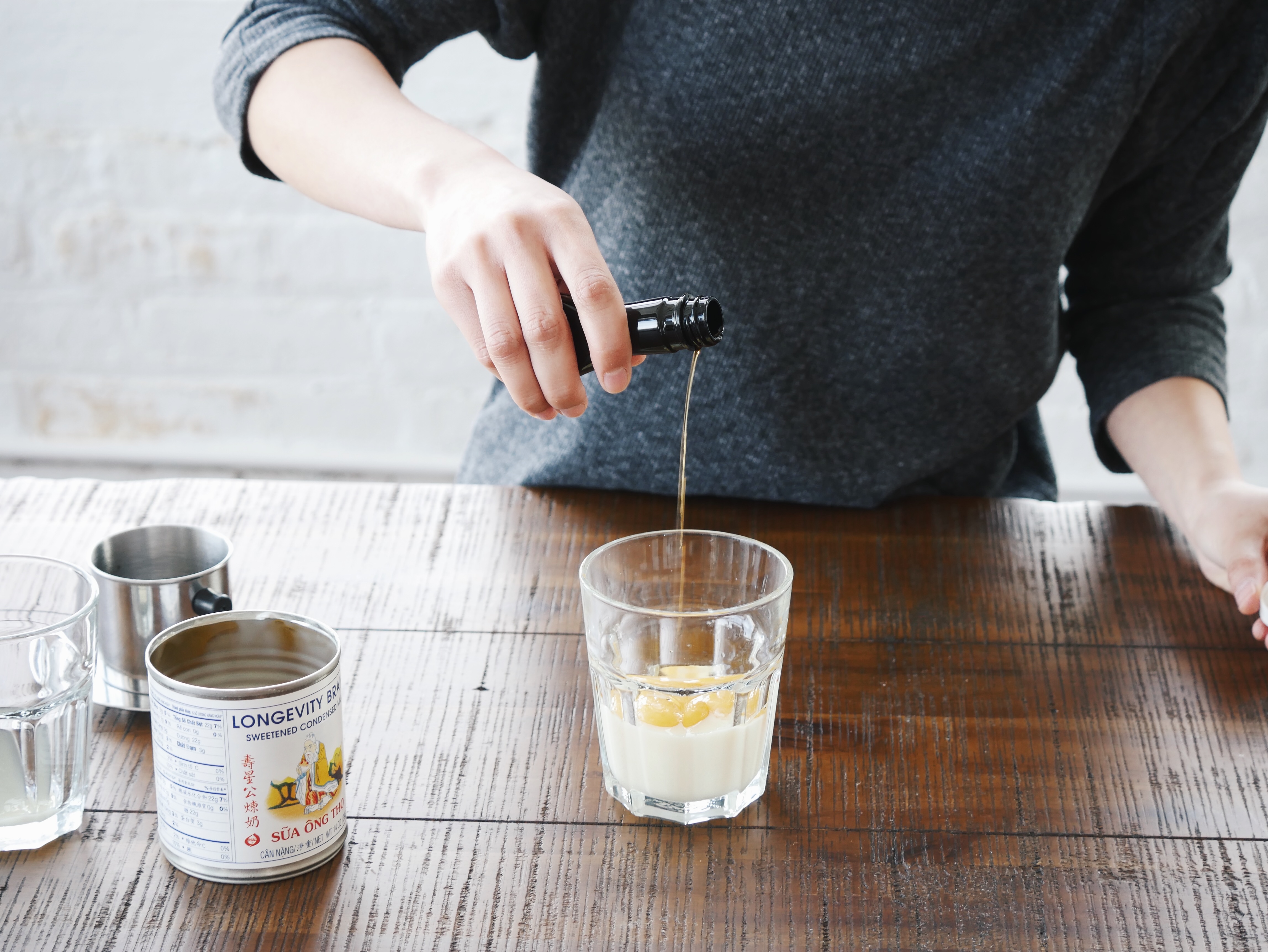 1. Prepare the egg custard: In your first cup, add 3 tablespoons of condensed milk, two egg yolks, 1 teaspoon of vanilla extract, and 1 pinch of cocoa powder.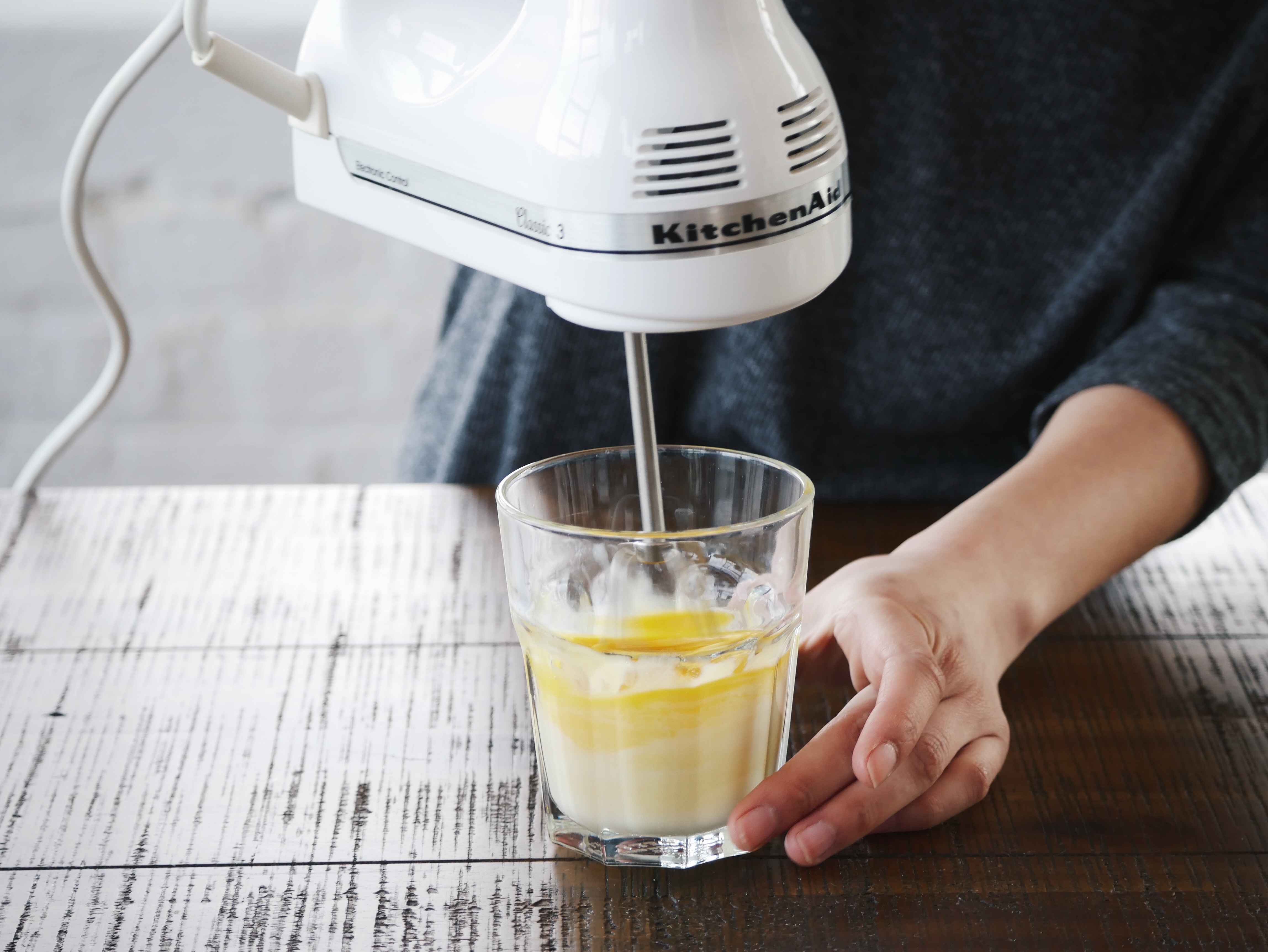 2. Mix the egg custard: Using the hand mixer, mix the ingredients for about 3:00 minutes or until it becomes a custard-like consistency.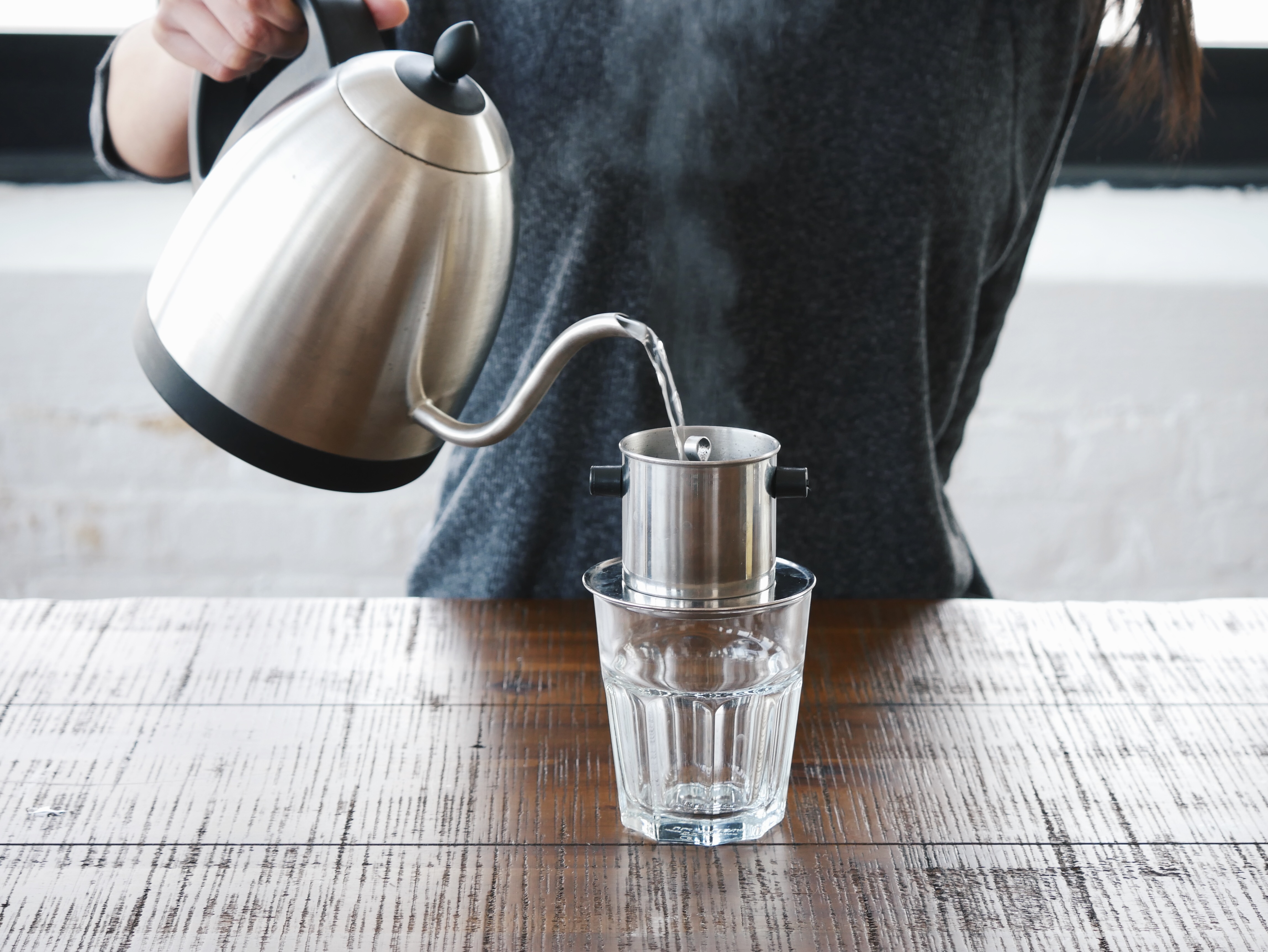 3. Prepare the Vietnamese coffee: Add 3 tablespoons of Vietnamese coffee ground into phin. Gently shake phin to remove the small grinds, place the tamper over the grinds, and push it down to level the coffee.
Place prepared phin on top of your second cup.
Splash 212 degrees of hot water (just enough to cover the tamper) and allow the grinds to bloom for 30 seconds. (If you do not have a temperature regulated kettle, just make sure that your water is boiling hot). During the blooming process, Co2 is released which will cause the coffee to bloom and the tamper to elevate. Slightly push down the tamper before the first full-cycle pour.
Pour 3 full cycles of water into phin. The coffee will slowly drip, but the key is to be patient. The process will take about 4:30-5:00 minutes to fully extract the bold coffee essence.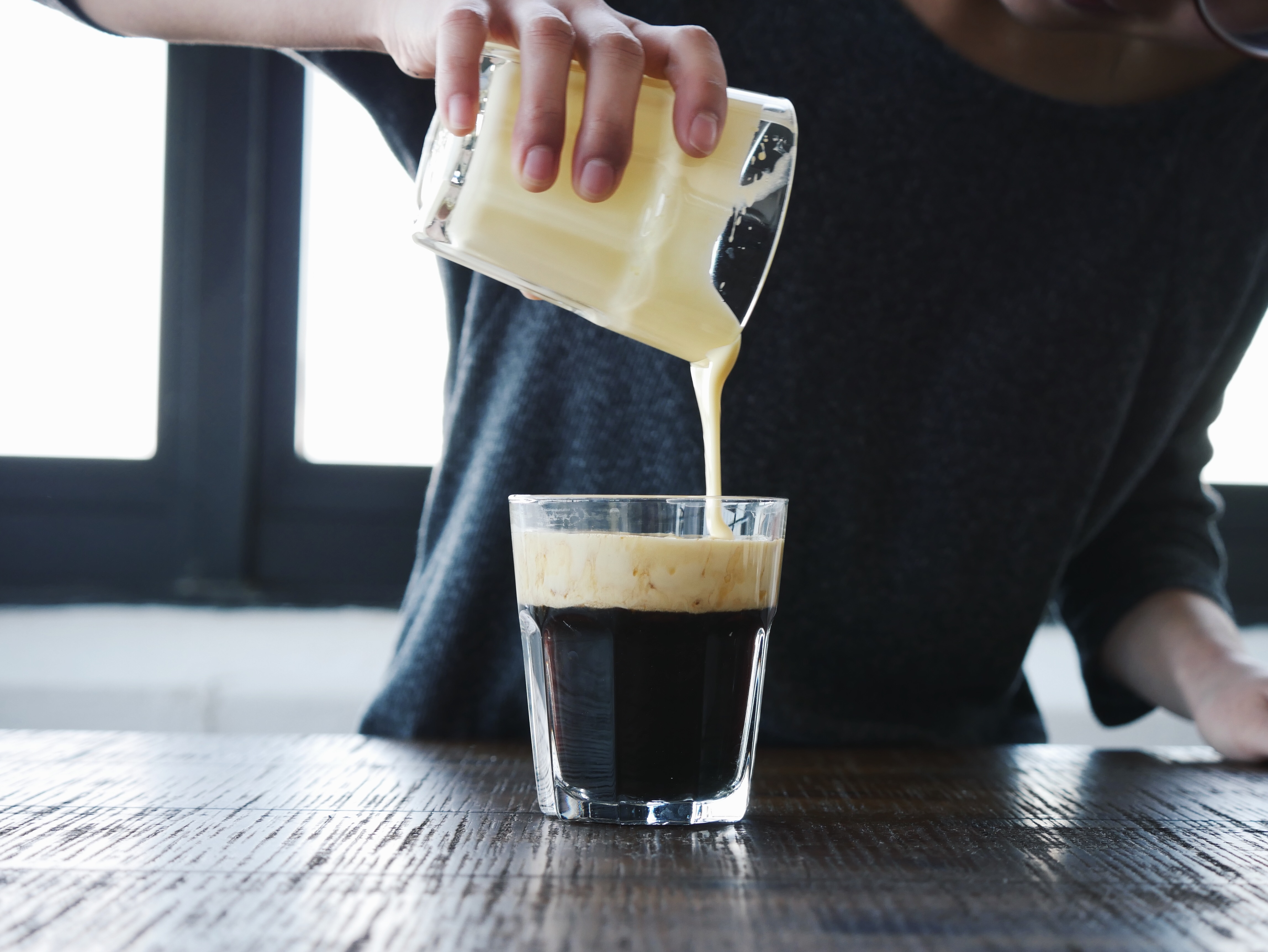 4. Combine the egg custard and coffee: Once Vietnamese coffee is fully brewed, slowly pour the egg custard on top of coffee. If the custard was properly mixed, itwill lie on-top of coffee. Mix custard and coffee before drinking to experience a smooth, velvety beverage.
Thank you, Thu! Recipe and all photos courtesy of Cà Phê.