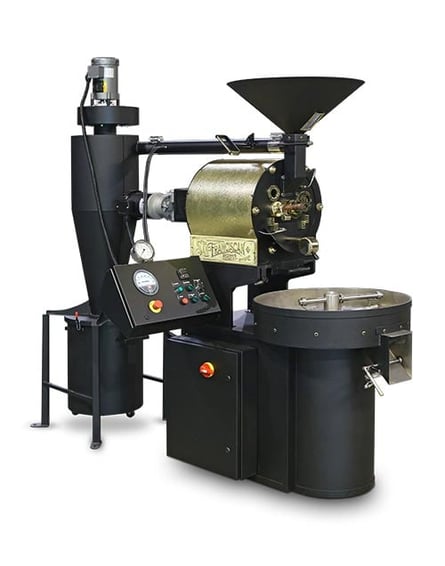 Get to Know Our Newest Coffee Roaster: The SF10
The SF10, our 10-pound/5 kilo roaster, is the newest addition to the San Franciscan Roaster lineup. It is built by hand with American-made parts in our factory in Carson City, Nevada. The SF10 is essentially a smaller version of our 25-pound/12-kilo roaster, the SF25. In fact, the SF10 uses many of the same parts as the SF25 while being proportional and scaled. The SF10 generally falls beneath the requirements of local municipalities requiring permits for larger roasters. Simply put, the SF10 coffee roaster machine is an awesome roaster that can suit the needs of even the most meticulous roastmaster.
Roast To Your Heart's Content
The SF10 is able to roast up to 10 lbs/5 kg of green coffee per batch. The SF10 is a great size for roasters who want to do more than just three kilos per batch but perhaps they don't have the capital for a whole 25 lb/12-kilo roaster. We use the same artistry and craftsmanship in each roaster. Since our roasters are scaled proportionally, the roasting characteristics are easily duplicated from one size to the next. In fact, all San Franciscan roasters are built with similar components which means coffee roasters can easily transition up to larger machines as their business grows! This consistency between our roasters makes transferability much easier. The parts we use are American-made, making them much more durable overall compared to the roasters of our competitors.
Expect the Best from the San Franciscan Roaster Company
Much like all our other roasters, the SF10 is handmade with love, care, and precision in our Carson City factory by talented, expert craftsmen who love what they're doing. Every single piece of steel is hand-formed, cut, and welded by our team. The San Franciscan Roaster Company produces machines that bolster American craftsmanship through and through. If you're ready to become part of the San Franciscan Roaster family, contact our team today!
The SF10's Internal Components
Apart from its great roasting capacity, the SF10 includes the following controls:
Adjustable drum speed

Air-flow control by both variable speed blower and mechanical damper

Simultaneous roasting and cooling system

Gas pressure gauge

Data-logging ready
The variable hot-air circulation fan allows roasters to adjust the air velocity and the pressure. Our SF10 roasters include Magnehelic gauges so roasters can measure the pressure within the system. This gives roaster-masters the ability to draw conclusions as well as corresponding data points along with the roasting profiles.