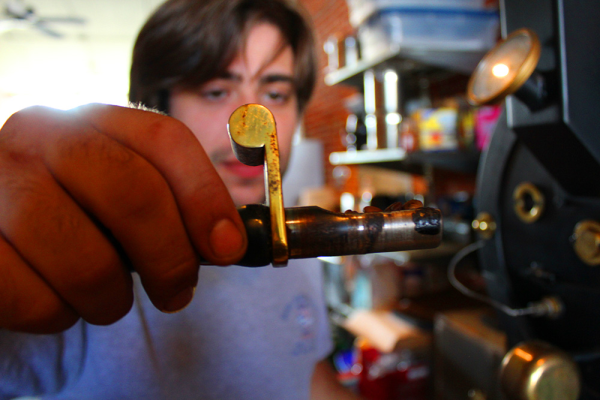 The story of San Franciscan owner Harbor Perk Coffeehouse and Roasting Company starts like that of many who fell in love with coffee and coffee roasting: Kelly Sposito was unhappily employed in a downtown Cleveland law firm when her husband Jake bought a coffeehouse in Ashtabula, Ohio in 2006. Over the next few years, Jake did a lot of research on coffee roasters, and in 2009 Harbor Perk Coffee moved to its current 100-year-old location where Steve the SF6 creates conversation and where Ryan Sposito, Jake's younger brother, roasts daily in the busy season.
The Spositos are a big Italian family, and Kelly jokes "My husband and Ryan have a natural palate for food and beverages, while I'm a wino." Working with the highly supportive staff at Royal, and doing their best to educate their clientele gently, they've enjoyed exploring many of the single origin and micro lot coffees available. Ryan says, "I tend to like like Africans, especially Yirgecheffes, and I get down with Sumatra as well. Our customers appreciate us selling Fair Trade coffees, and we get a kick out creating fun blends to sell around Ashtabula."
Things for the Spositos were going well until Jake was diagnosed with brain cancer. Kelly says, "Ryan was in college. When Jake got sick, he came home and we taught him to roast so he could take over." The very communal nature of coffee which they love so much was one of the hardest aspects of dealing with Jake's illness. "Since Ashtabula is such a small town, everyone knows us and witnessed it from beginning to end. Can you imagine being stuck behind a roaster for 8 hours a day and having to talk about cancer the whole time? But the whole experience really brought our customers and us together as a family." Jake passed away in August, and Kelly and Ryan carry on his passion at Harbor Perk with a sense of humor and a lot of hard work.
Being the only high-end roaster in Ashtabula gives Harbor Perk a unique position in town, and Ohio's weather cycles make for a different busy season than other roasters—the summer is hopping for Harbor Perk, while the extreme cold of the winter keeps people in their houses (and not buying coffee.) Customers include a lot of Kent State students, and Kelly says, "We let people do whatever they want as long it's not too crazy." In the summer Ashtabula has become a tourist destination, which the Spositos enjoy. Business is going well.
As many San Franciscan customers acknowledge, care and maintenance of their roasters is easier vs. other makes--but it's still a lot of work! "We take very good care of Steve," says Kelly. Given his residence in an old building, cleaning the flue is a bit more complicated than usual: the lucky cleaner has to crawl up an elevator shaft, take the entire flue apart, and climb out onto the roof to finish the job. Still, the onerous task has become a bit of a coffeehouse event, with friends helping by bringing along various kinds of equipment to aid the process and cheer it along.
With a lot of bravery and a warm sense of community, Kelly and Ryan are moving forward, and one thing is certain: Ashtabula's got a good thing going in Harbor Perk!