Like many coffee professionals, Micah Svejda didn't set out to dedicate his life to the elusive bean. Nor, years ago in a philosophy program in St. Louis, Missouri, could he forsee roasting on a red San Franciscan coffee roaster in the stately city of St. Paul. "I took a job at Kaldi's Coffee to supplement my income as a teaching assistant," says Svejda, who'd put in years behind the bar in chains like Caribou and Dunn Bros., "and the truth is that I fell in love with coffee and out of love with academia."
Kaldi's is a company known for encouraging its employees to educate themselves, chase dreams, and find what they love in the context of the industry, and Svedja took full advantage of that. Training as a barista competitor alongside now-veteran industry folks like Joe Marroco (of Cafe Imports) and Mike Marquard (of Blueprint Coffee), Svejda became a lead barista for Kaldi's within six months of his hire.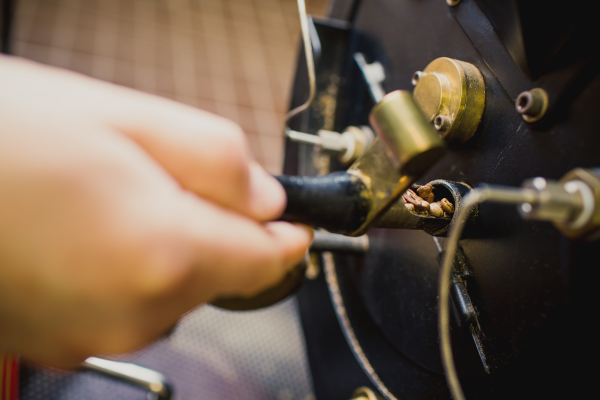 When Svejda's wife went back to school in the Twin Cities, he worked at a couple local shops, Black Sheep and Quixotic Coffee (roasting and managing respectively) to gain experience for launching Bootstrap. In the summer of 2013, at the same time he left his job at Quixotic to launch Bootstrap, he found his SF6.
Bought from The San Franciscan Roaster creator Sherman Dodd years ago, the red roaster had been very lightly used at a coffeehouse in Cedar Rapids, IA. Road-tripping with his dad, Svejda brought the roaster back and installed it for the time being in a garage where, with San Franciscan's propane mod, he practiced roasting as he went through the hassle of licensing Bootstrap Coffee and finding a roasting space.
That roasting space opened up almost by accident, and one successful Kickstarter campaign to generate buzz and a bit of capitol later, Bootstrap Coffee was launched! With a slowly-expanding reach in the Twin Cities and increasing national attention, Svejda's coffee company shows great promise, the kind of reward fitting for a man who just started a company while expecting his first child in August.
Svejda says he chose to use a San Franciscan based on its reputation, because he'd worked around two SF25's in the past, and that every dealing he's had with our folks has been easy and friendly. "I'm still getting to know the machine," he says, "and I love it. It's easy to clean and maintain, and replicating roasts is simple."
We are honored that Svejda chose The San Franciscan Roaster as his most essential tool for Bootstrap Coffee and wish him the best!