Back in the day, marketing executive Dave Stahlman traveled a lot for work, including to Dubai, where for the first time he tried Turkish coffee, and extensively in Europe. One of his favorite coffee memories is drinking a cappuccino at a street cafe while looking up at the Eiffel Tower. Incidentally, that remembered taste is the flavor profile he seeks when roasting the Black Powder signature espresso blend.
Abroad, he had great coffee experiences, but when he came home to Mooresville, North Carolina, he had trouble replicating those moments. One day, says Black Powder Roasting CEO Melissa Stahlman, the husband and wife team decided to roast their own coffee at home. "We bought small batches of beans, experimenting and giving away the coffee. We started out like so many on the stovetop, but quickly bought a small electric home roaster." She laughs, recalling burnt batches and epic fails. "We learned a lot from that roaster! But we were constrained by the electric system, with the coil always on and only being able to adjust heat by airflow."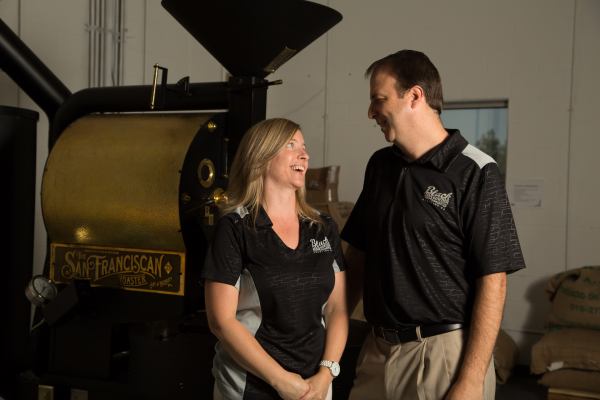 Friends and family had been complimenting their coffee for a while, and eventually in November of 2013 the Stahlmans decided to make a career change. In January they chose their San Franciscan SF25, and in March they moved into their 1800 square foot roasting facility. Black Powder Roasting was born.
A certified woman-owned small business, Black Powder works hard to source coffee responsibly and roast it to optimal flavor, presenting it to customers in a variety of venues along with a relaxed willingness to chat, make and taste coffee, and educate. Wholesale sales make up a large part of Black Powder's business, with relationships with local coffee shops including Madelyn's in nearby Cornelius, NC as well as to grocery stores and restaurants. Retail online sales and walk-in sales round out the business, giving Dave and Melissa the chance to build their brand through personal interaction. "We really enjoy it when people walk in the door," says Dave. "It makes us light up! It's a social event. It's about them learning and hopefully buying a pound before they leave. You get to know people in the 4-minute Chemex brew cycle." He is pleased with the growth of the company, saying they have a long way to go (of course) but that word of mouth is growing very quickly and they look forward to bringing their children (currently ages 12 and 15) into the business.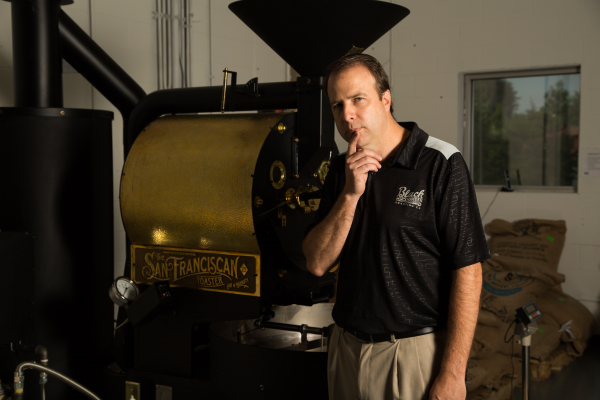 The San Franciscan Roaster appealed to Dave's engineering background. "I appreciate how Matt and the team design the componentry," he says, "and seeing that helped us make a purchasing decision away from ceramic heating tiles to direct flame." He appreciates the responsive airflow in his SF25, he says, and after three years of trial and error roasting at home, has continued his roasting education with the Willem Boot Camp and instruction with Bill and Matt of San Franciscan. (Roasting with Bill on his private SF25 in his garage was an added perk.)
Around the world, to North Carolina. The Stahlman family looks forward to years of building a coffee company worth buying coffee from, continuing their education and passing it along to customers.