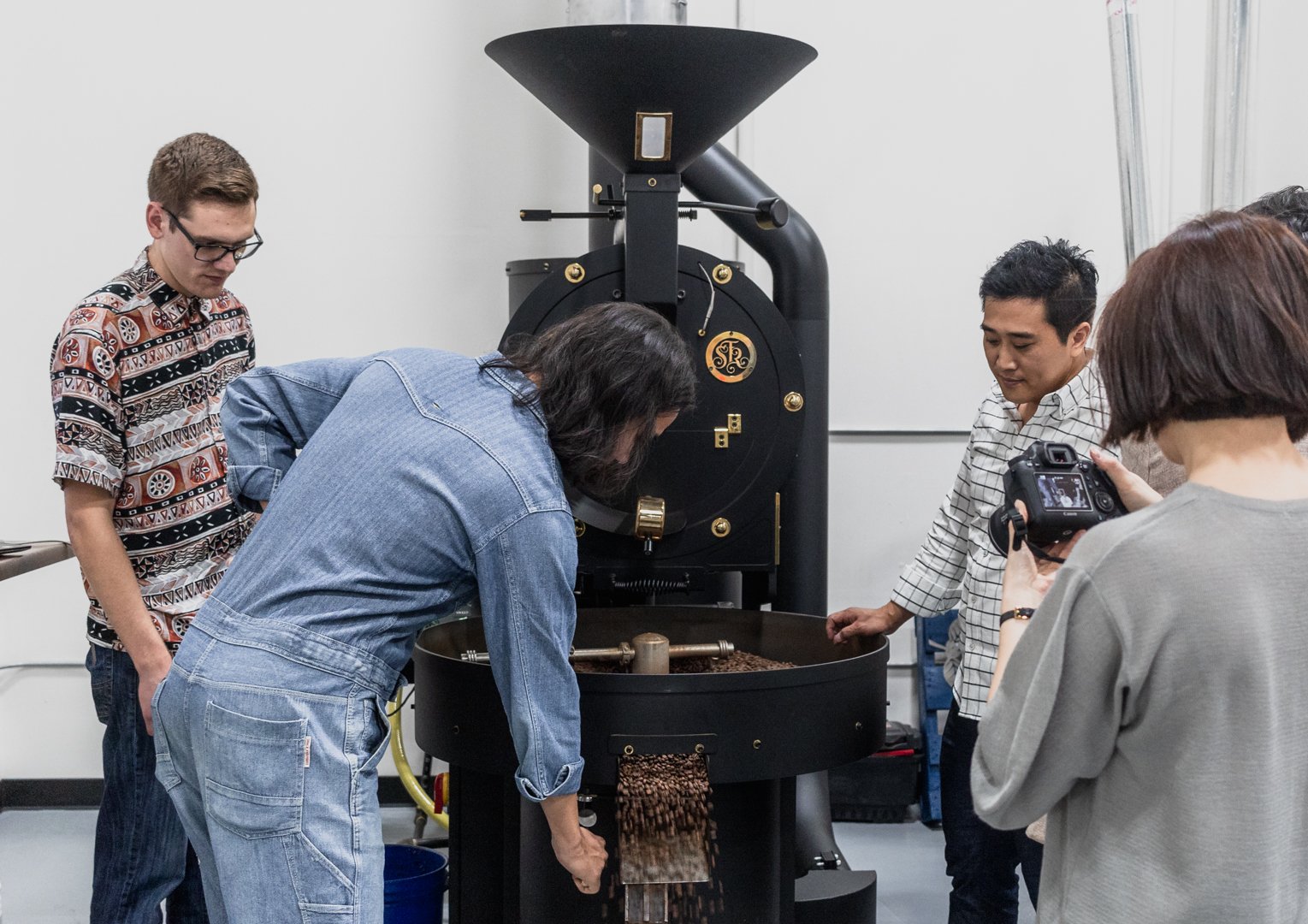 The Specialty Coffee community is all about sustainability, from farm to cup. When it comes to roasting, roastmasters must be completely aware of how their machines affect the environment. Local municipalities are in charge of regulating emissions. As such, regulations differs from state to state but larger roasters (specifically those that roast over 10 lbs/5 kg) require some type of permit in order to be operated. The San Franciscan Roaster Company is devoted to building machines that exceed expectations. Our largest roasters, the SF25 and SF75, come outfitted with afterburners in order to comply with the most stringent air quality control mandates. But the work doesn't stop there. The San Franciscan Roaster Company is doing its part in bettering the environment. Our coffee school, the Coffee Roasting Institute in North Carolina, is working on becoming a net zero carbon footprint business. This way, prospective roastmasters can learn everything there is to know about roasting while reducing their environmental footprint.
Gain The Knowledge of Roasting in an Eco Friendly Setting
Specialty coffee shops all across the United States and around the world understand the importance of sustainability and safe production. This is paramount in the specialty coffee community. While most coffee shops have two or three roasters, CRI - Blue Ridge Campus is outfitted with six San Franciscan Roasters for students to learn how to roast coffee using high-quality machines. This way, prospective roastmasters will gain the skills and knowledge they require while reducing their effect on the environment. San Franciscan Roasters are made with the environment in mind. Each one of our roasters is designed to suit local regulations. In the city of Boone, North Carolina, for example, the use of afterburners is not required. This leads to lower usage of fossil fuels which means the carbon footprint offset is much easier to obtain with solar power.
What It Takes to Become a Net Zero Carbon Footprint Business
Using coffee roasters that are designed to be efficient and safe for the environment is the first step towards lowering the overall impact of our campus in North Dakota. But there's more to be done, particularly in the aspect of energy consumption. In order to be as sustainable as possible, CRI - Blue Ridge Campus is on a path towards becoming a net zero carbon footprint business.
What exactly does it mean to be a "net zero carbon footprint" business? According to the World Green Building Council, net zero energy buildings "generate 100% of their energy needs on-site." Although WorldGBC understands this may not be completely feasible, it is possible for buildings to be energy efficient while supplying their energy needs from renewable sources. CRI - Blue Ridge Campus is currently working to create a solar powered renewable energy system that would offset the carbon footprint made by the fossil fuels/carbon dioxide output.
A Closer Look
As North Carolina's first SCA Premier Training Campus, CRI - Blue Ridge Campus is focused on being a positive member of the community and specialty coffee roasting industry at large. By proactively facing the issues of energy consumption and emissions head on, CRI - Blue Ridge Campus will be able to uphold the Specialty Coffee Association's core values, particularly the following:
Sustainable Coffee Industry

"We advocate for the sustainable growth of the coffee industry through collaborative partnerships that pursue equity, prioritize mutual benefits, and result in positive impact throughout the coffee supply chain. We work to improve understanding of critical social issues and inequities through proactive efforts, focused attention, education, and dedicated resources."
Community of Communities

"We value diverse perspectives by listening, centering, and adapting to unique local characteristics while encouraging a sense of global community for cultural and economic exchange. We recognize local communities and facilitate development of infrastructure, communication, and sharing within and among coffee communities."
"We demonstrate integrity of business practice and nonprofit governance. We comply with local regulatory requirements and act with unyielding dedication to our self-defined commitments. We inspire trust through transparent communication and acknowledgement of accountability, and improve performance through aspiration, self-monitoring and member engagement."
Much More Than A Coffee Institute
Specialty coffee roasting is a multifaceted community. Every single participant plays a major role throughout the process. At the CRI - Blue Ridge Campus, students and instructors alike will be able to focus on the art and nuance of specialty coffee roasting. Right now, our campus is North Carolina's first SCA Premier Training Campus. Although we pride ourselves in providing certified instruction to prospective roastmasters, we continue to look for ways to positively impact our community. In becoming a net zero carbon footprint business, CRI - Blue Ridge Campus will be able to face the issue of energy consumption head on. Contact us today if you'd like to learn more about the San Franciscan Roaster Company of the CRI - Blue Ridge Campus.