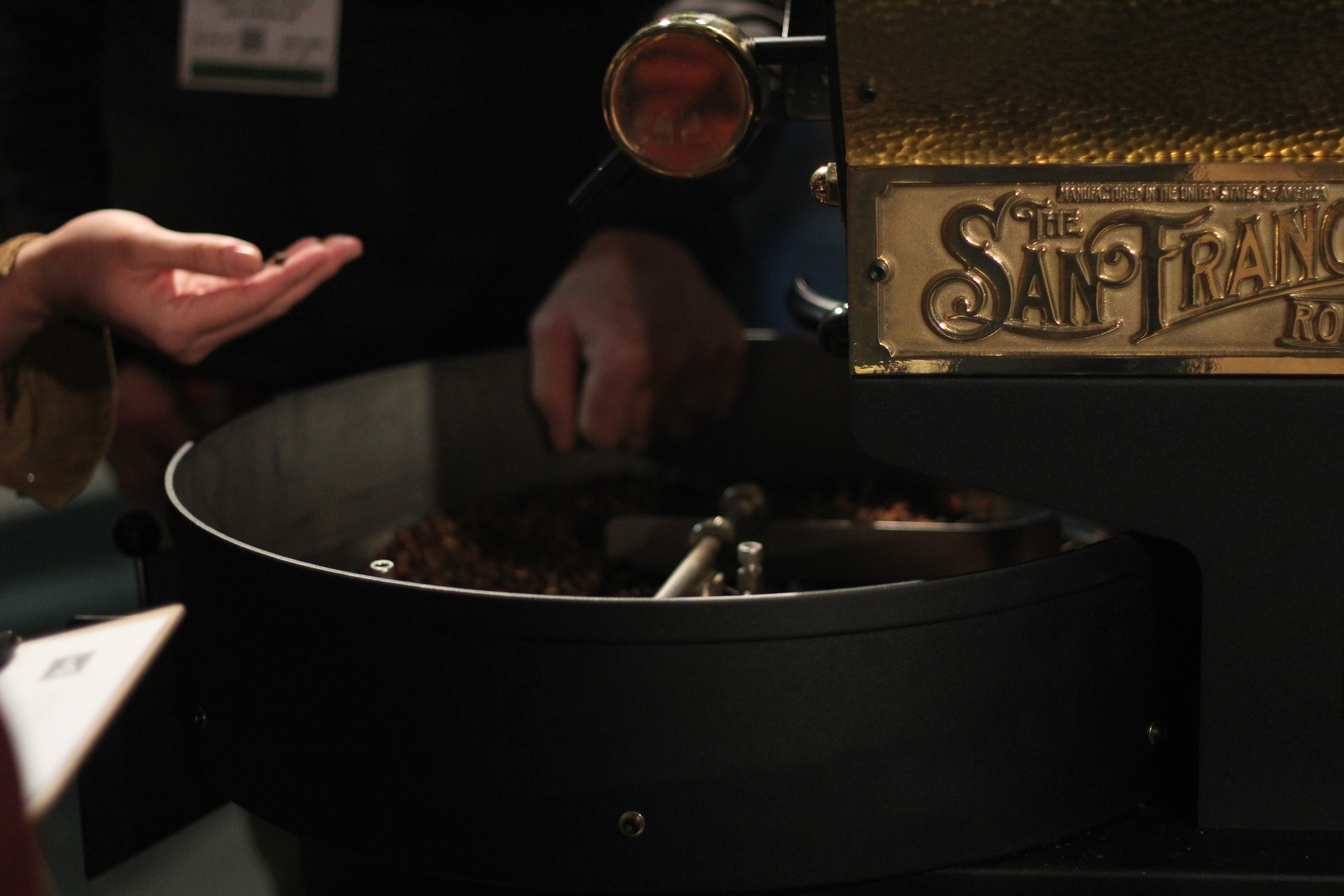 The San Franciscan Roaster Company has been producing robust, high-quality coffee roasters for many years. Throughout our time in the industry, we've gained valuable knowledge and insight which has allowed us to produce coffee roasters that can suit the needs of even the most meticulous roastmaster. Every single one of our roasters—from the small, yet mighty SF-1 to the robust and quiet SF-75—is 100% American built and manufactured. We never compromise quality.
Every single one of our roasters is built by hand in our Carson City factory to your exact specifications. Our roasters come in different sizes to suit the needs of various coffee houses and roasters. The SF-1 is perfect for training or profiling while the SF-6 is great if you're ready to join the specialty coffee industry in earnest. The SF-6 can come with an optional farmers market kit which gives you the ability to take your roaster to farmers' markets, fairs, or festivals. Our largest roasters, the SF-25 and SF-75, come standard with afterburners to drastically reduce the harmful effects of smoke and odor. Each component is chosen specifically to maximize the overall performance of the roaster. After all, it's what's inside that counts!
SF-1: The Perfect Profiling/Training Coffee Roaster
Don't let its size fool you, the SF-1 is hand built with the same high quality pieces as our larger roasters. With the SF-1, roastmasters will be able to roast up to 1.3 pounds of green coffee per batch, with up to three roasts per hour. In fact, the SF-1 is able to yield a maximum roast capacity of 4 lbs. per hour! Even though it's small, the SF-1 is a hardworking machine. Due to its size, however, the SF-1 stands as one of the best and most popular sample/profile roaster on the market. If your needs grow and you decide to add another roaster to your coffee house, you'll still be able to use your SF-1 to its fullest potential! It's perfect for profiling and training high-end micro-lot boutique coffees.
SF-6: A Great Starter Roaster You Can Bring on the Road
The act of coffee roasting has often been seen as a stationary process, one confined within the four walls of coffee houses all around the world. But what if you want to bring your coffee to the people? Although the specialty coffee community is vast and ever-growing, there are still countless individuals who know very little or nothing at all about it. But that doesn't mean they're not interested. A great way to introduce a large group of people to something new is by bringing it directly to them. Your local farmers market, for instance, is the perfect environment to bring your coffee roaster to the people.
If you own an SF-6 from the San Franciscan Roaster Company, you can make this a reality. The SF-6 can be ordered with our special farmers market kit that includes a beautiful, Amish-made hickory cart, wheels with sealed bearings, rubber tires, and steel axles. This kit includes a propane hook-up and mount as well as handles for maximum maneuverability. Now you'll be able to bring your artisan coffee to your local farmers' market whenever you so choose! You can bet that crowds will gather around your cart as you start to roast a new batch of coffee. The sound of cracking, the scent of freshly roasted coffee beans, it's all incredibly cinematic and alluring. And now, with your SF-6, you'll be able to bring this to the people! If you already own an SF-6 and you'd like a farmers market kit, don't worry! We can make a kit that will fit on your existing roaster so you'll be able to benefit from this newfound mobility!
SF-25 and SF-75: Our Biggest (and Quietest) Roasters
If you're looking to step up your coffee production, consider our larger models: the SF-25 and SF-75. Roasting up to 25 lbs and 75 lbs respectively, these roasters are built for the artisan roaster. Since these roasters produce high levels of roasting emissions, we decided to do something about it. The SF-25 and SF-75 come standard with afterburners. These afterburners make the roasters as environmentally friendly as possible. In fact, the afterburners are designed to comply with the most stringent air quality control mandates by burning up any smoke and odor that emanates from the roasting process.
Since we're always thinking ahead, the afterburner and chaff collector are both combined in a separate cylinder on the back of these roasters, providing ease of maintenance. In addition to the afterburners, the SF-25 and SF-75 also include variable drum rotation speed as well as hot air dampers and variable speed hot-air fans. All of these details work together to produce a robust and resilient roaster that will produce the perfect roast, batch after batch.
Getting Acquainted With the San Franciscan Roaster Company
Now that you've gotten acquainted with our line of roasters, it's time to get to know our team! The San Franciscan Roaster Company is made up of Q graders, roaster instructions, and coffee enthusiasts who work together to create the best small-batch coffee roasters in the world. When you purchase a machine from us, you become part of our family. The specialty coffee industry thrives when everyone in the community looks after each other. As such, we provide guaranteed personal support for the life of the roaster. If you'd like to learn more about how to roast on a San Franciscan Roaster, then visit our factory in Carson City, Nevada! We provide free training services with the purchase of each roaster. This way, you'll be able to learn how to use your roaster as effectively as possible! Contact us today to learn more about what we have to offer.