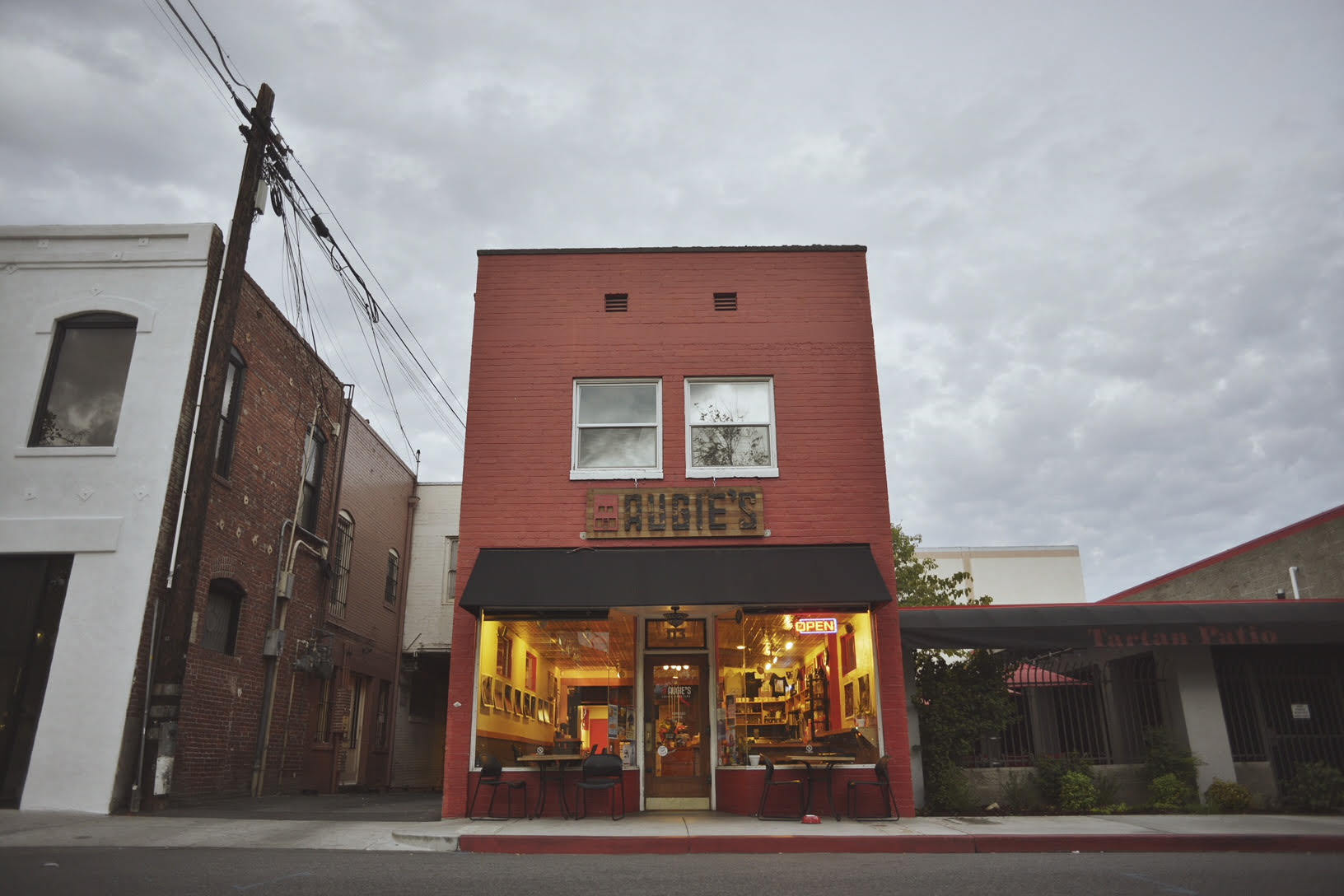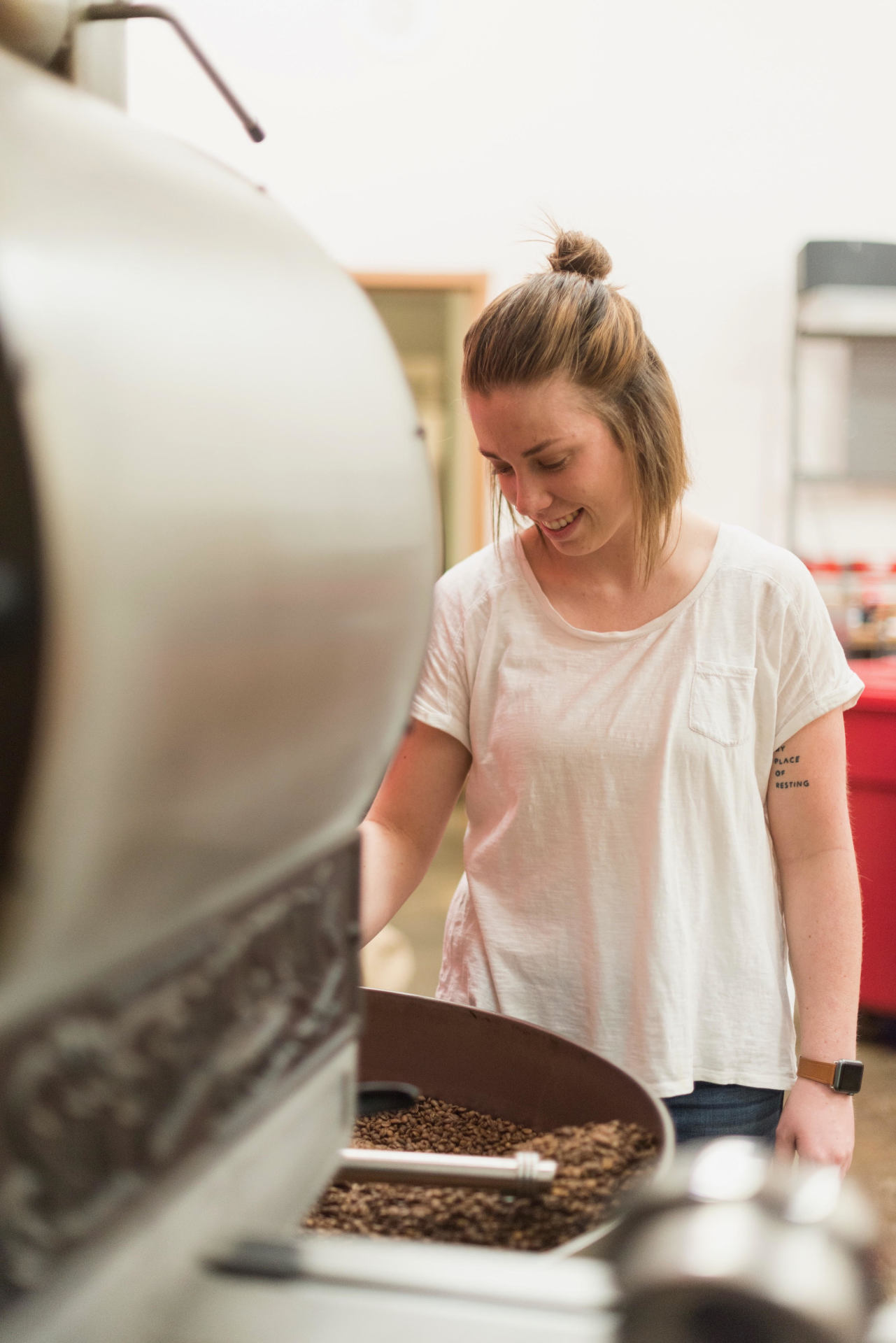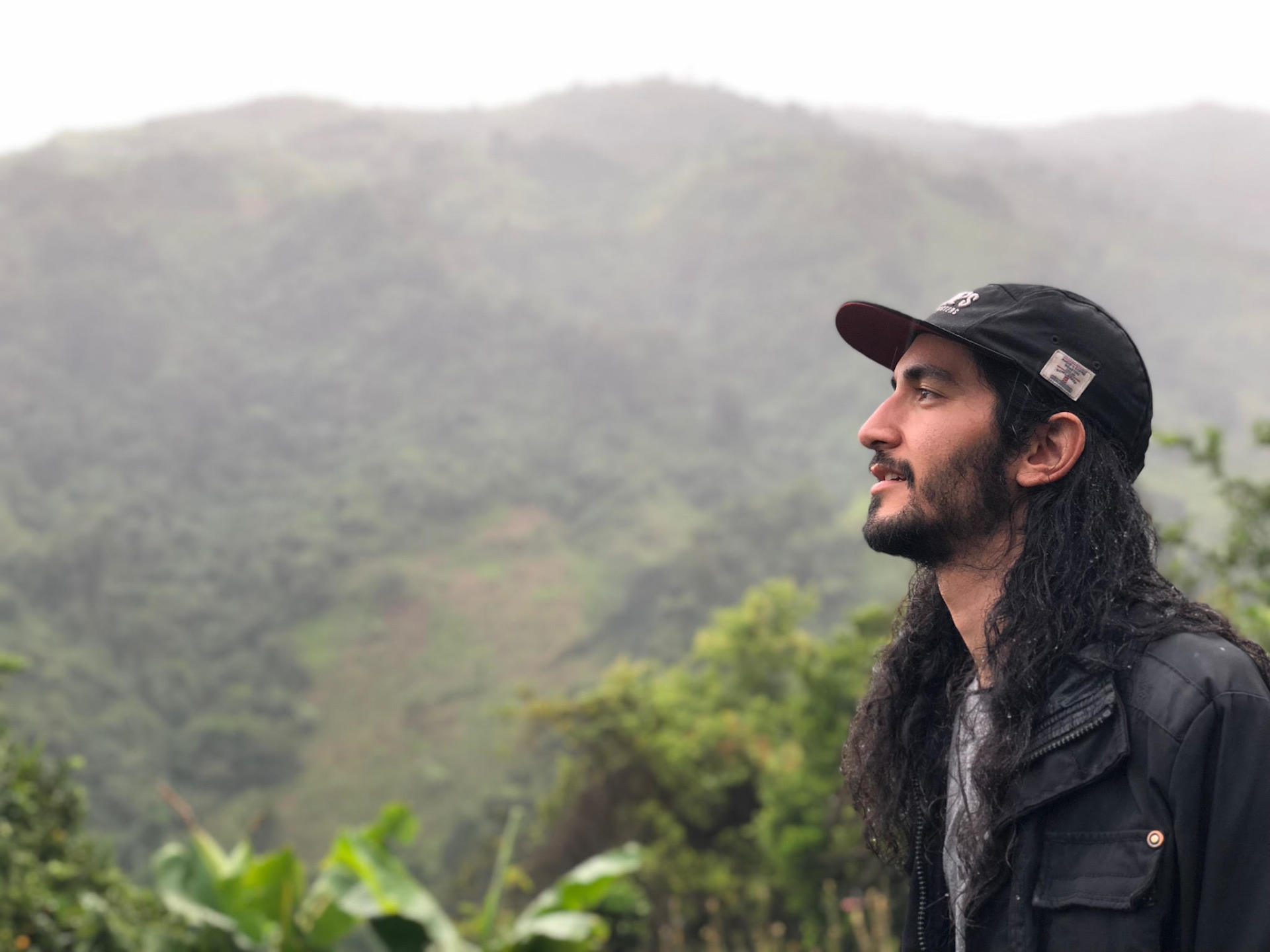 PSA: Augie's likes dogs. That's the first thing they want you to know. They also happen to roast coffee and own four cafés with two upcoming locations sprawling throughout Southern California. But that's just a side gig…
The company, originally founded in Redlands, has gained a rapid following on the outskirts of Los Angeles, with current locations in Redlands, Riverside, Claremont, and Temecula. Owner, Austin Amento, and his father, Andy, opened the space in 2009 with the idea of selling the best coffee to cool people. Their company puts green coffee buying at the forefront, ensuring that they are providing the highest-quality and optimal transparency while promoting community.
I talked to roaster and green buyer, Tim Maestas, and production roaster, Lydia, to learn more about Augie's commitment to brewing good coffee and having fun.
Interview has been edited for clarity.
I saw that you guys talk about "pushing boundaries" in the coffee industry? What makes Augie's different from other shops?
Tim: Good question. I think that what we really try to focus on the communities that we're based in, and we kind of ingrain ourselves in these cities. We're in a handful of cities in Southern California. We try to serve those cities as well as we can and hire managers and staff that can follow-through with that idea of becoming a part of their city and making that Augie's really vital. On the production side, we are definitely huge believers in trying to make sure that all of the coffees that we're bringing in are brought in fairly, whether that be with an importer – which I'm all for, we love using importers that we believe in – or if someone from Augie's is traveling, meeting the producers and building a relationship which is always fun. We have quite a few coffees from relationships that are more our friends than not.
How do you think Augie's has changed, starting from its earliest location and now moving on to six locations?
Austin: Well, I mean the bills definitely got larger. Hopefully not a ton, just more people, more fun…
Lydia: More resources to do bigger things.
A: There you go. I feel like it's changed a lot, but it's also very similar still. I'm still working all day every day, we're always here working on new projects, having fun. When we got the San Franciscan, it was nice, because we were able to use Cropster and have a lot more variable control on drum speed, fan speed, all of those different toys so that was very exciting – Cropster, integrated with the San Franciscan, and everything being repeatable as you have notes – it's interesting to then use your notes from past coffees that are similar density or similar region to then influence how you would approach a new coffee. The big thing is – did you guys mention dogs?
T: I didn't do my preface of dogs.
A: We like dogs a lot. I just wanted to make sure that was on record.
T: And recently sometimes cats, maybe?
Can you tell me a little about your green-buying policies?
T: I wouldn't say we're really strict in the way of how we have to buy coffees. We don't have like, "Oh we have to replace this natural Ethiopia with another natural Ethiopia before it runs out". We're strict in the way of quality. We accept samples from any importer, anytime, and sample roast them. I think a lot of roasters don't allow open samples to be sent to them, but we're very much like, "send us whatever". Because of that, we taste a lot of coffee here, and on average, we probably taste 40 or 50 coffees before making a purchase. That's just from here, the roasted samples and cupping samples side of things, which is a lot of our time, but doesn't necessarily add up to a lot of coffee that we buy. Like I said, we're doing more and more with coffees at origin and that we're able to cup there. We get a larger pick of what we want there, so we're cupping tables of dozens of washed Ehtiopias from one region today, so we can make a purchasing decision from that. [We're] always in mind of who the farmer is. It's always nice to see that there's good projects going on for that farmer or co-op.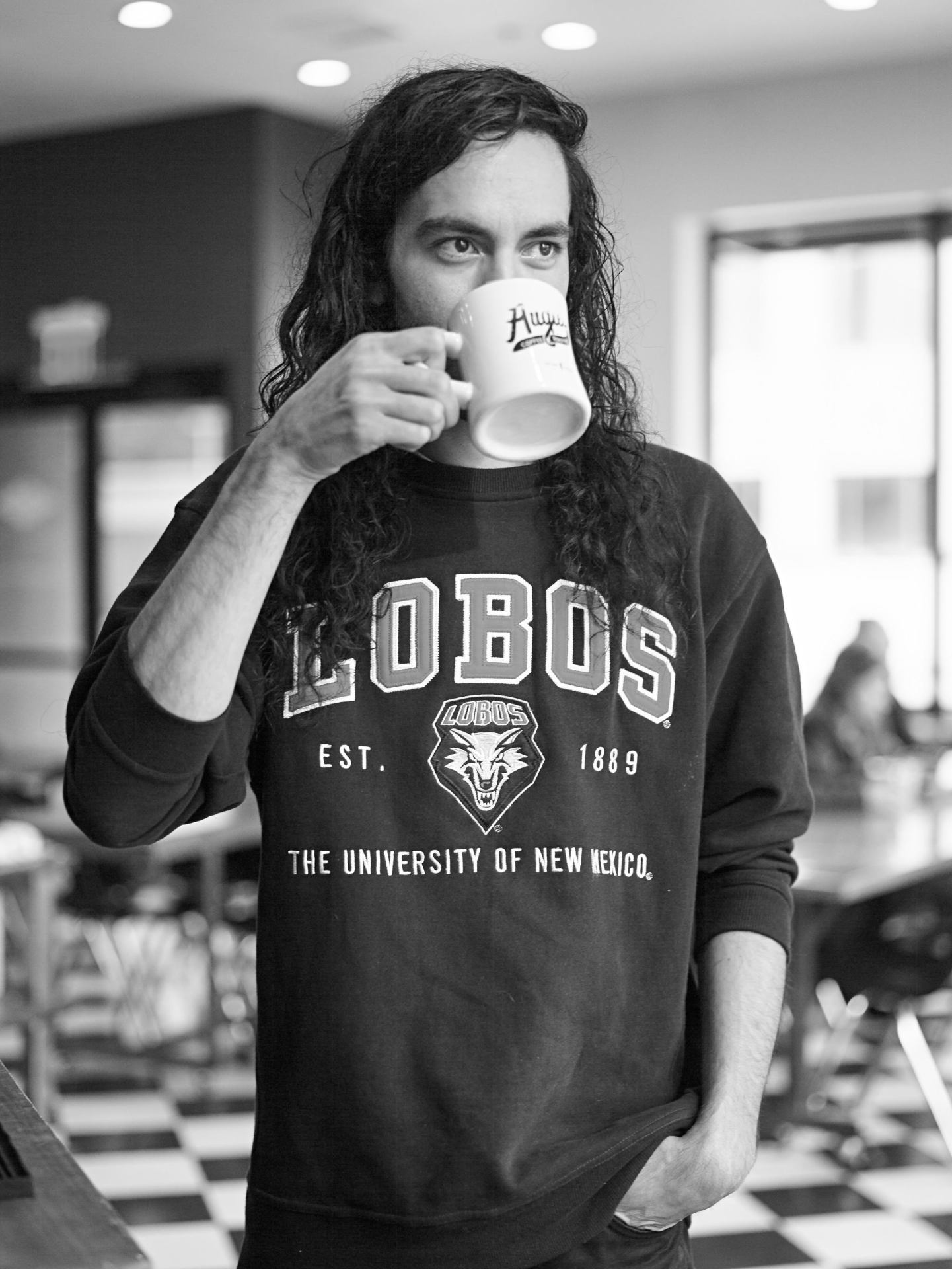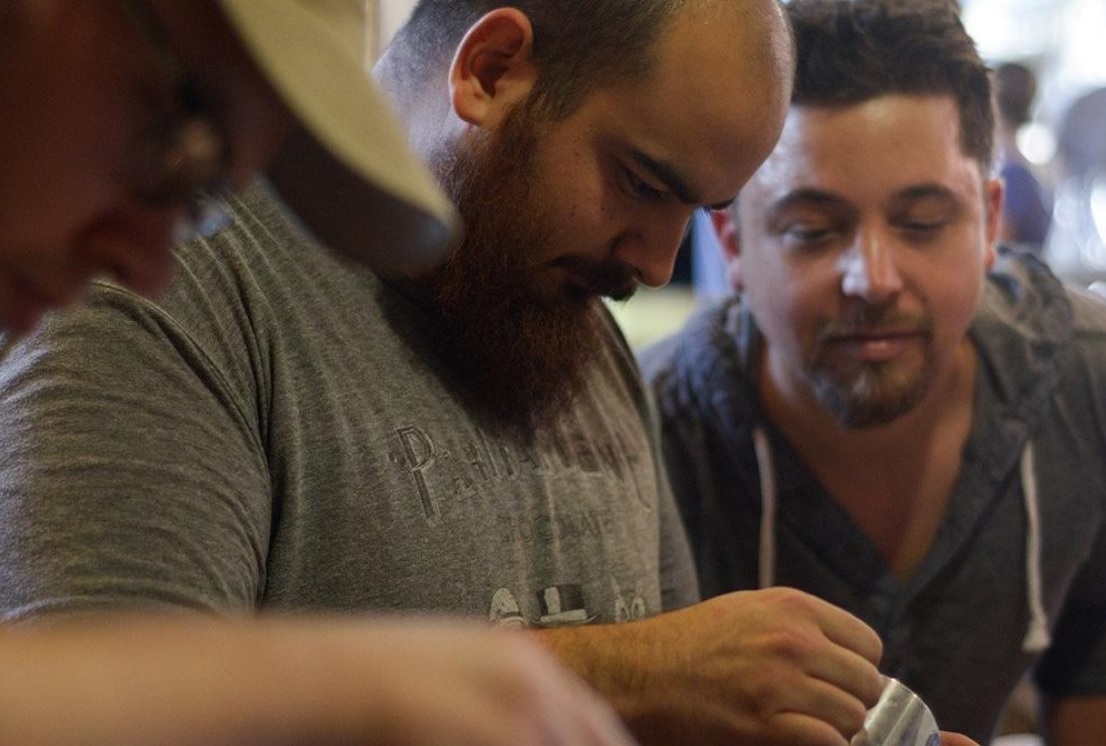 I saw that Augie's has some competitors this year [Austin Amento in Taster's Cup, Blair Smith in Brewer's Cup] – how has it been getting ready for Expo, and what are you most excited for?
T: All of the parties. No, it's been good. Blair is here a handful of times a week for a couple hours putting in time, tasting her coffee, growing her coffee, and having us taste it. She's been using the coffee from the same farm for the past couple of years so that's been really interesting for her to travel with them. They're a younger farm, they've only been around for four years now, so she's been using them for like two and a half of those. A lot of work, a lot of time goes into that. Austin has been doing Taster's Cup as well which is not an easy thing to practice for. I have to brew X amount of coffees and line up coffees and mark all the bottoms. After he does one set, we have to re-set it all and do it again. It's a lot of extra work, but we take it easy in other areas around this time to make up for it. [Blair] is grinder-testing right now so she has three or four grinders in there with her right now, and she's brewing them all.
L: I think I'm excited to be there with a company that's so deeply involved in the coffee community. I went last year, and the shop that I worked for at the time didn't pay all that much attention to the coffee community, so I look forward to meeting the people that Augie's knows and for networking and hanging out with my coworkers.
Can you tell me a little bit about your background in coffee?
L: I have been in specialty coffee for a year and a half now total. I worked at two companies. I've been at Augie's for close to three months now, but I've been roasting for a little more than a year.
T: I started in coffee six years ago at Klatch. I was only there for approaching a year, but they had a great training program, I really enjoyed my time there. I got to learn from Heather Perry. And then, I came to work at Augie's when they were opening their second store in Riverside. I was on bar there for a year, and the [roaster at the time] was moving north up to San Francisco, and I wiggled my way into the roastery.
What is your favorite coffee you guys are roasting right now?
L: I have really been enjoying a Costa Rican we have from a farmer named Adrian Hernandez. It's really delicious. I think it's from Central Valley. It's quite fruity and floral and tasty to drink.
T: My favorite is a washed Peru we just got from Moyobamba. This is our first Peru, and I've just been really stoked on it. We haven't worked with this importer before either. It's a new relationship, they came out and visited us a month and a half ago and came back with samples. We cupped them together, and it's really good, so we made friends with them.
Anything else you'd like to say about Augie's?
T: We just love dogs.
L: We're for sure one of the best coffee shops in the country. No question.
T: You did not hear that from me.
Tim and Lydia will be pulling shots at the SFR Expo booth on Friday, April 20 from 1-2 PM. More more info about Augie's visit their website, Facebook, or Instagram.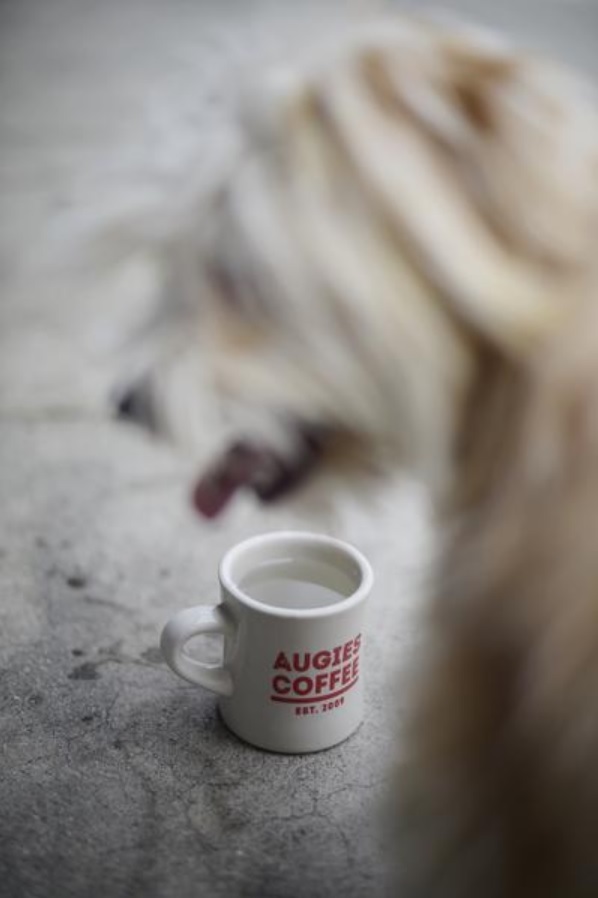 All photos courtesy of Augie's Coffee.