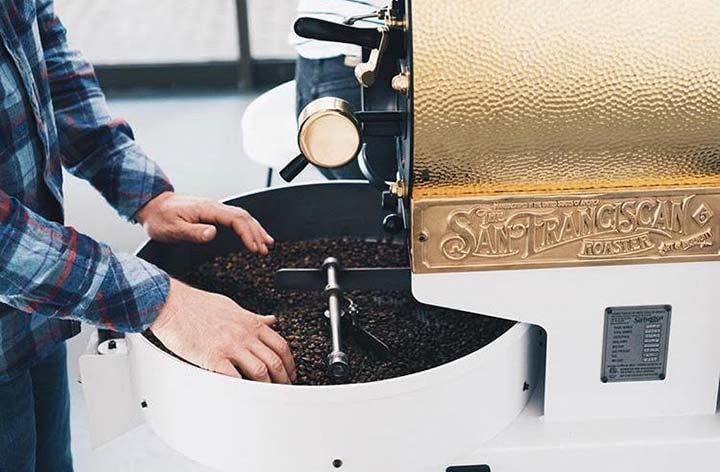 One of the best ways to stand out from the crowd is to offer something unique and distinctive to your customers. This way, they'll keep coming back for more!
You already offer coffee drinks, so why not roast your coffee in-house? While this may be more labor-intensive than simply buying roasted coffee beans in bulk from a supplier, you'll be able to add a touch of individuality to your most popular menu items.
Let's take a closer look at how you can begin roasting coffee in-house!
Our commercial coffee roasting machines are second to none! Call the San Franciscan Coffee Roaster Company today to speak with one of our experienced roasting experts — 775-996-2280!
From Farm to Cup: Supply Chain Sustainability & Transparency
By roasting your own coffee, you'll become more involved in the specialty coffee supply chain. Sustainability and transparency are one of the most important aspects of our industry. By playing your part to a greater extent, you'll be able to make decisions that benefit all those involved, from the farmers and transporters to sellers.
While this will require quite a bit of research, you'll be an active participant in fostering and creating a more sustainable and transparent worldwide coffee industry.
You Can Sell Your Own Coffee Roasts
Just imagine, your customers will be able to buy bags of specialty coffee roasted by their favorite cafe. You can hire local artists to design the art for different kinds of roasts. Perhaps you could organize tastings for new coffee roasts to introduce your local community to what you have to offer.
You can also consider selling coffee at local farmers' markets. People who visit these markets are always excited to try something new and to support local businesses. Look into your local farmers' markets. If you want to turn heads, you can take your small-batch coffee roaster to the farmers' market!
At San Franciscan Coffee Roasters, we offer a special farmers market kit for our SF-6 (6 lb/3kg) roaster. This kit allows roastmasters to easily transport the SF6 to farmers' markets, fairs, and festivals. Including Amish-made hickory cartwheels with sealed bearings, rubber tires and steel axle, propane hookup and mount, and handles, you'll be roasting coffee in style!
Set Up a Coffee Subscription Service
Consider setting up a coffee delivery service to take your in-house roasting capabilities to the next level. According to a report by the Specialty Coffee Association, subscription coffee sales increased by 109% in 2020 due to COVID-19.
While that number will potentially decrease as the world opens up, the facts are clear. People are signing up for coffee subscriptions more than ever before. It's a great way for them to never worry about running out of coffee. So, if you're producing enough coffee, why not consider starting up a subscription service? It's truly one of the best ways to get your coffee out there.
Call Us Today to Learn More About Your Next Commercial Coffee Roaster!
If you're considering in-house coffee roasting, it is best to collaborate with a reputable commercial coffee roaster manufacturer. At the San Franciscan Roaster Company, we go above and beyond for our customers. If you're unsure about which size unit to purchase or you'd like to learn more about what it takes to start roasting your own coffee, give us a call! Our experts are always happy to help.
Take your cafe to the next level with San Franciscan Roaster Company! Give us a call today to learn more — 775-996-2280!